Civil & Commercial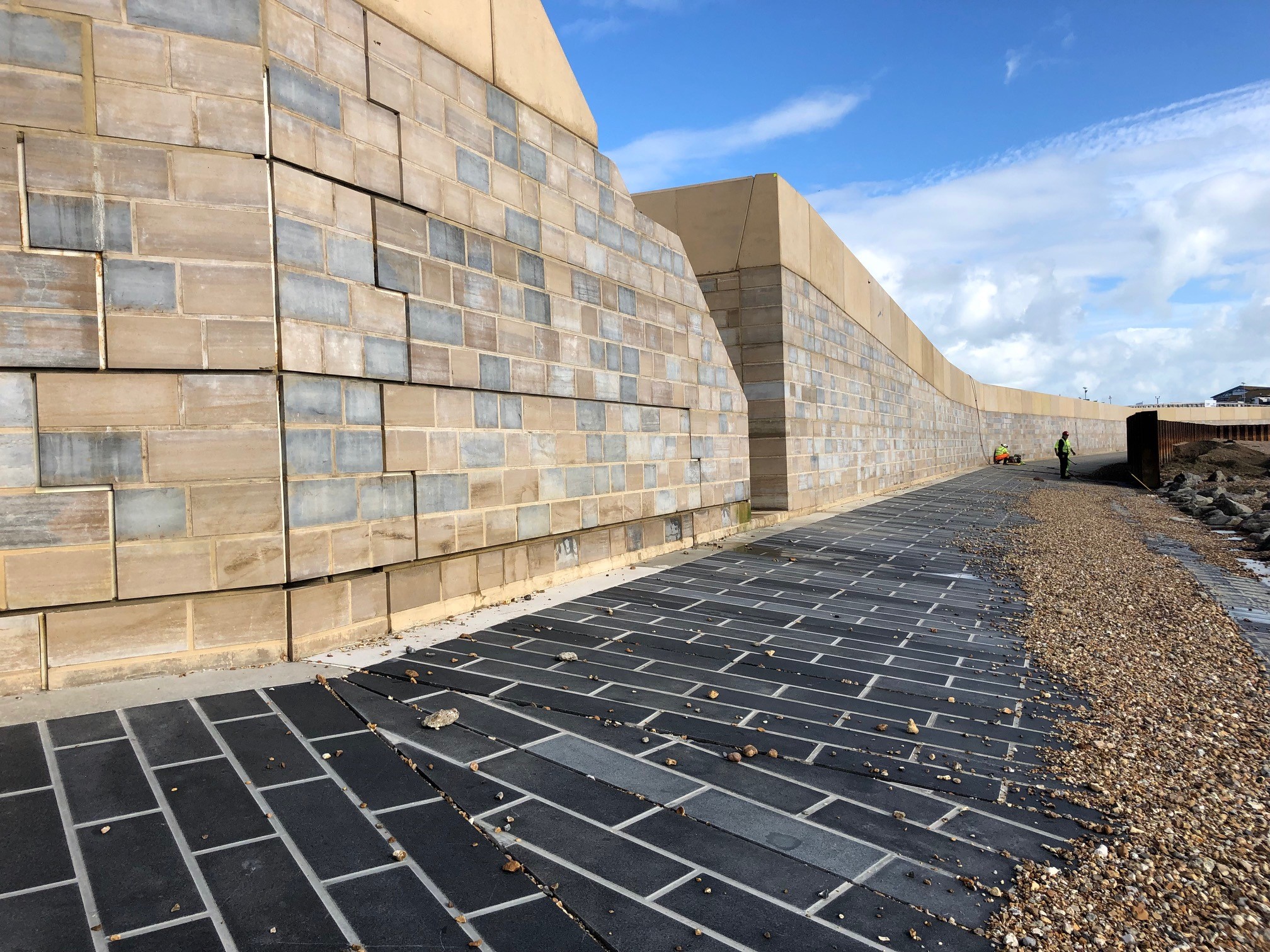 Year: 2020-2022
Client: Portsmouth City Council
Main Contractor: VBA Joint Venture comprising
VolkerStevin, Boskalis Westminster and Royal HaskoningDHV
Moore Concrete Project Value: £3.668m
The Southsea Coastal Scheme is the UK's largest local authority-led coastal defences project, worthmore than £130M. It stretches for 4.5km from Old Portsmouth to Eastney, and help to reduce the risk of flooding to more than 10,000 homes and 700 businesses. The need for improving the sea defences in the area has arisen from the current defences nearing the end of their lifespan, increasing the risk of flooding to homes and local business. With the new coastal defences, the risk of a major flooding event is reduced for the next 100 years.
Moore Concrete were contracted to manufacture precast units including apron slabs, wall panels, parapets, terrace units and kerbs amounting to almost 4,000 Tonnes of concrete in over 100 variations of unit type. All precast units apart from the apron slabs were completed in warm white pigmented colour, which was specifically colour matched to the existing mortar that was used during the construction of the existing defence wall.
The existing limestone sea defence walls had been constructed using Purbeck limestone in the late 18th century. Sourcing stone from the same geological limestone beds (possibly the same quarry) Moore Concrete cast Purbeck limestone blocks into pigmented concrete wall panels. The Apron slabs similarly had granite blocks cast into the top face to increase the abrasion resistance of the slabs, which sit directly in front of the wall panels and will be subject to more wave action. Both the limestone and the granite have a life span of over 100 years engineered into the thickness of the blocks, which will allow the stone to wear naturally each year alongside the historic sea defences.
A major challenge throughout the project was the necessity for special apron slabs and wall panels, which were position at the changes of direction. Due to the installation sequence and site survey constraints, there was a fast turn-around required for all the special units, with little-to-no room for error.
The stone clad precast elements were fibre-reinforced alongside conventional steel reinforcement to increase abrasion resistance of the concrete joints between the stone. The stone blocks had a mechanical fixing using basalt dowels embedded into the concrete to ensure that the blocks would not detach from the wall during a storm event.