Agriculture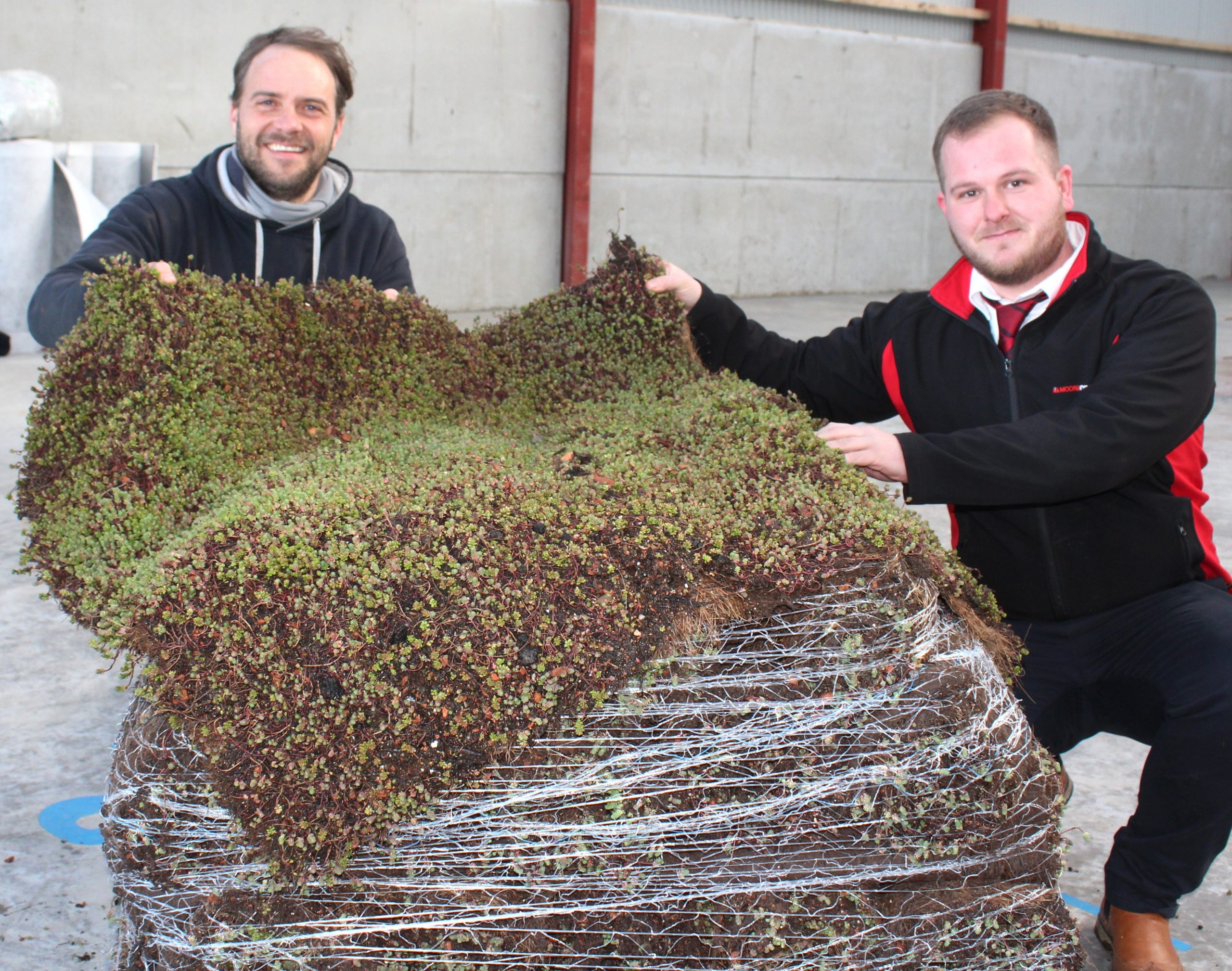 The use of Sedum, a perennial succulent native to Northern Ireland, is being used by a Magheramorne-based company to meet the ever growing demand for green roofs throughout the UK and Ireland. Ray Hanvey is Managing Director of Green Roofs Ireland. He explained:
"It is now a requirement that all flat roofed buildings constructed in the UK are completed with a living cover. Sedum blankets are perfectly adapted to meet this requirement in full. 
"The varieties we use are extremely hardy. They flower in the summer time, which makes them very attractive to bees and other pollinating insects. Being succulents, they can also absorb large volumes of water, thereby reducing the risk of flooding incidents during periods of very wet weather.
"As a consequence, Sedum represents the most durable green roof option on the market."
Ray and his team at Green Roofs Ireland grow the Sedum in fields adjacent to the company's premises on the shores of Belfast Lough. Coir is used as the growing medium. 
He commented:
"Coir is a natural fibre, extracted from the outer husk of a coconut shell. When it comes to finishing off the roof all that's required is the placement of a waterproof layer upon which the Sedum blanket is placed. The Sedum comes in one-metre square units and is very easy to position.
"The roof will last for a lifetime. In addition, it is also maintenance-free."
Such has been the growth in demand for the Sedum roofs that Ray recently committed to the construction of a new multi-purpose 'hangar'.
"We needed a much larger facility to allow us make up orders and to store materials," he said.
"The end result was the recent construction of a 35m by 15m roofed hangar, which provides us with the flexibility that we will need to grow the business. 
"The concrete floor was laid before Christmas. When it came to the walls, we opted for prestressed panels, manufactured and supplied by Moore Concrete.
Ray had a number of reasons for going down the wall panel route. He explained:
"In the first instance, they were put in place very quickly. They also have a very high quality finish. The panels where made to order, specifically to meet our current needs, but afforded us the flexibility for further growth provided by their easy relocation, if and when required. 
Moore Concrete's Jonny McKinney was a recent visitor to Green Roofs Ireland. He explained:
"The wall panels used in the new hangar were 15 feet in length, 4 feet in height and had a thickness of 4 inches. The panels used for the gable wall were 6 inches thick. Although depending on the application we also manufacture 8 & 10 inch. 
"Our wall panels can be used for a wide range of construction purposes. They offer significant time and cost savings over traditional methods. There is no need for foundations, as the panels can rest on the post foundation or on a landing bracket, they are then clipped to or slotted in between the RSJ beams, to create a smooth finish."