Company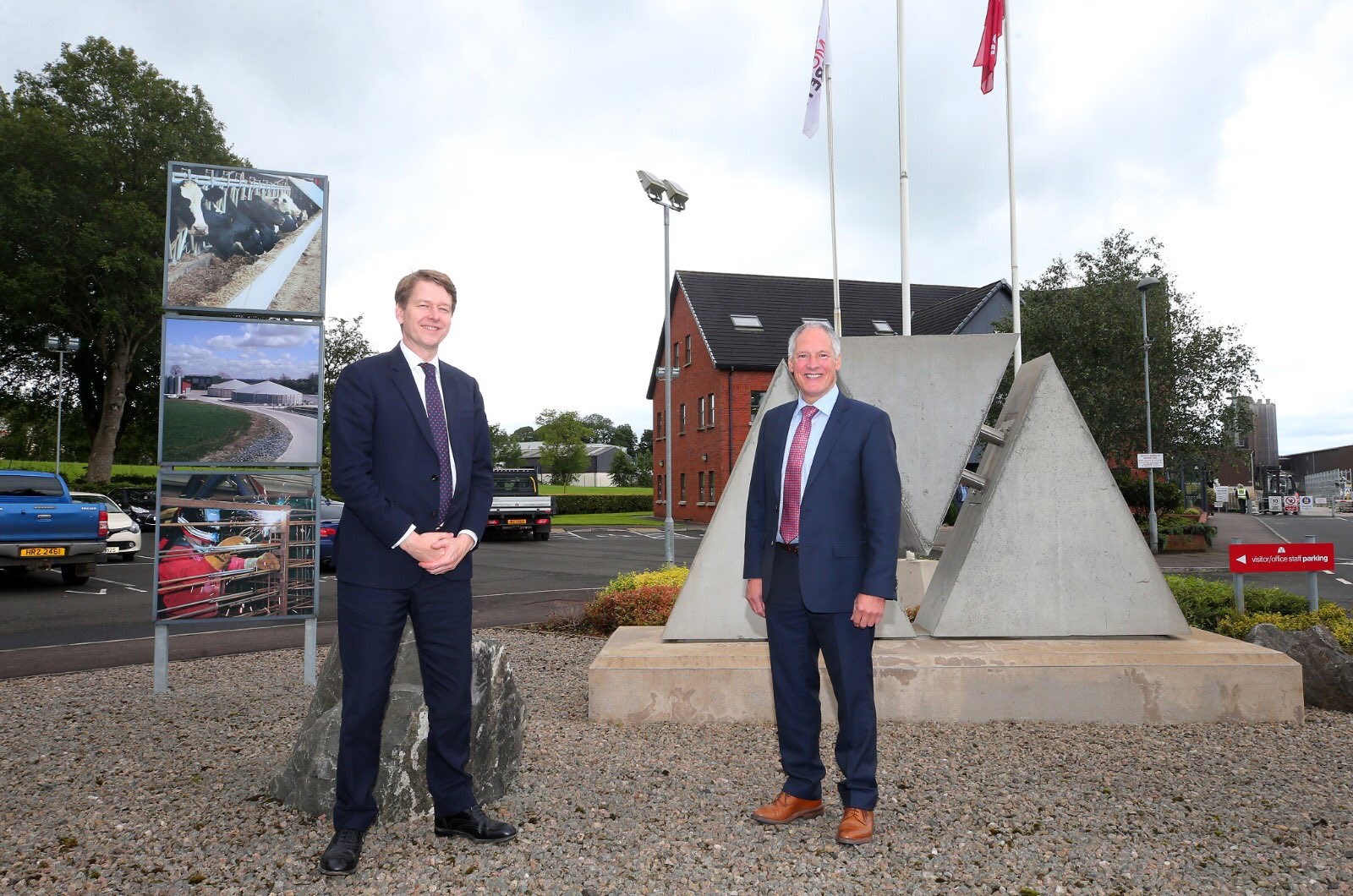 Minister of State at the Northern Ireland Office, Robin Walker MP, recently visited Moore Concrete. He was accompanied by the Mayor of Mid and East Antrim Borough Council, Councillor Peter Johnston, and the Deputy Mayor, Councillor Andrew Wilson.
The Ballymena based precast concrete operation manufactures a wide range of standard and bespoke products for use in the civil engineering, agriculture and construction sectors throughout the UK. The company employs 150 people and, last year, generated a turnover of just over £12m.
The Minister's visit allowed him to gauge, at first-hand, how Moore Concrete is coping with the Covid-19 pandemic. The company has remained open for business throughout the crisis. Robin Walker met members of the Moore Concrete management team and was given a tour of the manufacturing site.
Moore Concrete managing director Wilbert Moore commented:
"Our primary objective has been to ensure the health and safety our staff. Every possible step has been taken to ensure that social distancing and all other relevant Covid-19 preventative measures have been in place since the onset of the pandemic."
"These included the use of the furlough scheme and encouraging staff to work from home, where possible.
"We formed a Business Continuity team with representatives from departments across Moore Concrete at the start of March, reviewing government guidance, engaging with employees and adjusting our approach as the situation developed. Working together was essential in navigating the ever changing landscape.
He continued:
"Our aim was to remain open if possible, supporting essential industries including several major infrastructure projects and the agricultural sector, fulfilling our commitment to customers, with an overriding emphasis on the protection our employees. Immediately post lockdown production fell by 40%. However, over the next few months we have gradually increased output back to pre-lockdown volumes.  
"Manufacturing output is, currently, at the highest levels achieved this year.  Furloughed staff have returned, and overall employment is up 12% from the start of March. We are currently actively recruiting for additional positions.  
"We have seen a resurgence in civil engineering and house building activity across the UK over recent weeks. 
"The farming sector accounts a very significant proportion of our turnover. As everyone will be aware, agriculture has been operating at full throttle throughout the pandemic. This has been reflected in the continuing investment taking place on farms throughout the UK."
Commenting on the future prospects for his business, Wilbert Moore focussed on the upcoming challenge of Brexit. He said:
"With the majority of our products sold in GB it is imperative that there are no restrictions placed on trade between Northern Ireland and the rest of the UK.
"We also need to see continuing and consistent investment by government in infrastructure, agriculture and housing."
Minister Walker expressed his delight at having the opportunity to visit Moore Concrete. He commented:
"My visit to Moore Concrete was a good opportunity to hear about the issues experienced by the company and the wider construction sector during Covid 19."
"I was pleased to be able to visit the firm's Ballymena premises, to learn about the value of UK Government support and to hear how Moore Concrete made great strides in ensuring they remained open for business while always keeping health and safety at the forefront of their minds. "
"The UK Government will continue to work collaboratively with businesses, the Northern Ireland Executive and local partners to get the economy back up and running, laying the foundations for a stable and sustainable economic future."