Company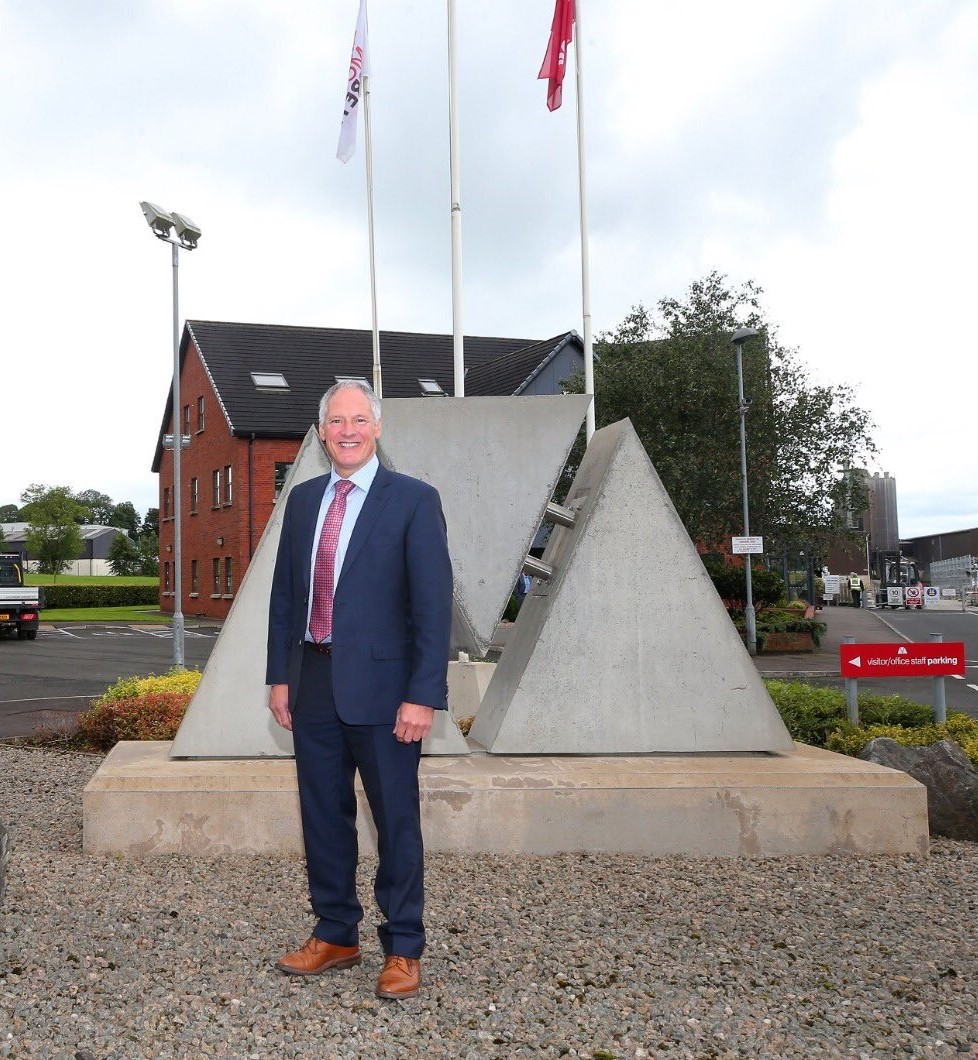 Precast concrete has revolutionized the world around us in so many ways. Most of the world's largest engineering  projects have precast at their very heart – to the extent that it is no longer considered to be a product. Rather it is a technology: one that is fast evolving in ways that can benefit every walk-of-life and industrial sector – including agriculture.
The last 40 years have been marked by the growing impact of Moore Concrete within the precast industry. The Ballymena based-business now has a growing customer base throughout the UK and beyond. The company's founder, Wilbert Moore, is naturally proud of this achievement. And is equally forthright in his assertion that the growth of the business has been developed on the back of natural resources that are found in abundance locally; sand and gravel.
Earlier this week, Farming Life's Richard Halleron caught up with Wilbert for a chat. It soon became obvious that Wilbert's early days helped shape the beliefs that go to the very heart of Moore Concrete today.
"I was brought up 4 miles from Broughshane near Slemish Mountain," Wilbert confirmed.
"I am the youngest of five, with two older brothers and sisters. Within our family a strong work ethic and the importance of always telling the truth was instilled in us from an early age. It was a busy household with plenty of comings and goings from a variety of great characters including neighbours, local school friends and plenty of cousins.
"My grandfather was a merchant selling eggs and potatoes to Belfast and returning home with animal feed, whilst also managing a small farm. My father took over the reins in about 1950 and developed the animal feed side of the business, supplying his own brand of rations and milling his own grain, plus retaining the farm, suckling cattle, pigs and sheep.
"Growing up there was never a dull moment, either going to the Belfast mills, delivering to local farms, or working with the stock on the farm, spreading slurry, silage, as well as draining and reclaiming ground."
So when did you get the idea of starting your own business?
"Starting to work came early for me as I was never fond of school and should have done better, which is something I regret," Wilbert recalled. "I couldn't wait to get started work. By this stage James, my eldest brother, had started his own civil engineering contracting business and my older brother John had joined my father in the family business.
"In March 1975 I commenced full time work for James, enjoying driving machines, and getting involved in all aspects of contracting. Within a couple of years I was managing some smaller sites.
"Many of these jobs involved working with concrete from shuttering retaining walls and culverts, to laying concrete bases or making man-hole cover slabs. Although enjoying this work, there was still a desire within me to have my own business, and unbeknownst to myself I was getting a love for concrete."
Why precast?
"One day I noticed secondhand cattle slat moulds advertised in the Farming Life and it gave me an idea. So I went to see them, they were rusted and had fulfilled their use, but the seed was planted and I started my plan. I arranged an overdraft from the bank, ordered new moulds, a vibrating table, mixer, wheelbarrow, and shovel. Everything was borrowed.
"After making a few different slats, which were approved by the Minister of Agriculture, with my father's help I got a lean-to building cleared out as a workshop. I left my employment and started on my own in November 1978. From then on it was hard work and a steep learning curve in many ways.
"The market was seasonal. The months of August and September were very busy with farmers getting prepared for cattle coming in over winter.  I needed to hold my nerve, committing cash and building stock ahead of demand that was predicted to come," Wilbert said.
"Year on year, I continued to buy more moulds and equipment, eventually recruiting extra people to help."
Today Moore Concrete employs 160 people. Getting to this stage has required Wilbert to set clear priorities for the business. He added:
"It soon became apparent that to build a sustainable business, I needed a broader product range as well as more factory and yard space. In 1984 we moved to a 2-acre site on the Woodside Road, where we are still located. The site now covers more than 30 acres, which in 1984 would have been unthinkable.
"Over the years I have come to recognise each day as a school day, mostly on the job but also through university and specialist training courses.
"Key insights encouraged me to move away from a production led approach and develop a customer led strategy. These insights also led to me to build a strong team ethos at Moore Concrete.
"Seeing others grow, fills me with a great sense of satisfaction. I am proud to lead a great workforce at Moore Concrete, with a continuous emphasis on training and development.
"We value our loyal customer base as at the end of the day it is these people who pay our wages.
"We are totally committed to our values: Health and Safety, Quality, Efficiency, Resolute and Respect for All.
"I am thankful for the support of my wife and family who have always been an encouragement to me whether in good or difficult times."
In defining Moore Concrete as a business today, Wilbert is quick to highlight its importance to the community of Ballymena. 
"I view Moore Concrete's greatest strength as its people, who are at the heart of everything we do. I am proud that we are a Silver accredited Investors in People company, supporting employee growth, by offering people careers rather than just employment.
"We have a strong emphasis on the development of young people working closely with ICE, CITB, local schools, colleges, and universities. We also offer training, work experience and apprenticeship opportunities within various roles throughout the company. We currently employ 12 full time apprentices.
"As part of our continuous improvement strategy, we are working with a number of Knowledge Transfer Partners including:  Queen's University Belfast and the Agri-Food Biosciences Institute.
"This approach not only extends our internal capabilities but combines the strength of academic knowledge with real world business solutions.
"Such a partnership approach is something I encourage throughout our company; whether it is building the local skills base, working with suppliers or developing new products with customers.
"We have an emphasis on sourcing from local businesses, never forgetting all the people who have supported me since founding Moore Concrete over 40 years ago.
"I am proud that 85% of the materials we purchase are sourced within 40 miles of our premises outside Ballymena. Significantly, over 70% of what we source comes from other SMEs."
"We have always fostered strong relationships with a wide range of groups within our local community and regularly support charities. Whether it is hosting a number of these groups at our premises, creating a great opportunity to share experiences and engage with one another, or working with the Mid & East Antrim Council Manufacturing Taskforce for the benefit of all local businesses."
Meeting the construction needs of modern day agriculture has been a key driver for Moore Concrete from the get-go. As a consequence, the obvious question then arises:
Can the farming industry look forward to a bright future?
"The good thing is we all need to eat. I think recent events have highlighted the importance of provenance for consumers with many choosing to buy local.  Modern farming is an increasingly professional business requiring a commitment to long term investment, understanding of animal welfare, changing markets and legislation, to create sustainable businesses.
"I greatly admire the determination and skill the farming community continues to demonstrate to ensure this way of life can be passed from one generation to the next. I am delighted they feel comfortable sharing the issues they face with our team, which has resulted in numerous product ideas to improve animal welfare, promote farm safety, and reduce environmental impact.
"Farm safety was front of mind when designing our XL Safety Mixing Slat with an enlarged mixing point to facilitate today's large slurry pumps.
"The hinged galvanised grid fixed beneath the mini concrete inserts incorporates a smaller hinged element to facilitate inserting a pipe into the tank without having to remove all the inserts or the complete grid itself.
"Our Surefoot slip resistant slats are designed to improve animal welfare and provide 50% more grip than conventional slats. They also reduce injury due to slips, improve foot health, and increase bulling activity.
"The most recent additions to the product range; our Ox Strain and Ox Post manufactured to BS EN 12839; provide a long lasting, post drive friendly, maintenance free, fencing solution.  The Ox Post's unique fixing strip incorporated into the front face allows wire to be stapled directly into the post, which has been very well received by farmers and fencing contractors alike.
"We aim to continue investing in research and development to create products which meet the challenges the industry now and into the future."
What does precast have to offer the world of farming- today and into the future?
"Precast offers design and build efficiency. In a factory-controlled environment we can produce high quality innovative products, that can be rapidly installed once delivered. Our Agri team are on always hand to help find the best solutions for each customer, whether it is designing livestock housing, separating crops or slurry storage solutions."
Brexit: opportunity or threat?
"We view Brexit as providing both challenges and opportunities as part of an ever-changing business landscape.
"We will endeavour to take a pragmatic approach allowing us to continue our development within the UK, Irish, European markets and beyond. Building on successful projects we have already supplied to countries including Iceland, Netherlands, Estonia, and France."
Wilbert loves talking about the past; but only in the context of learning from it and allowing Moore Concrete to build for the future. Critically, he sees the challenge of Global Warming and the absolute necessity of putting the needs of the environment front as critical components of Moore Concrete's development plans for the future.
"The drive within the precast sector over the past 10 years has been to improve our environmental performance," he added.