Civil & Commercial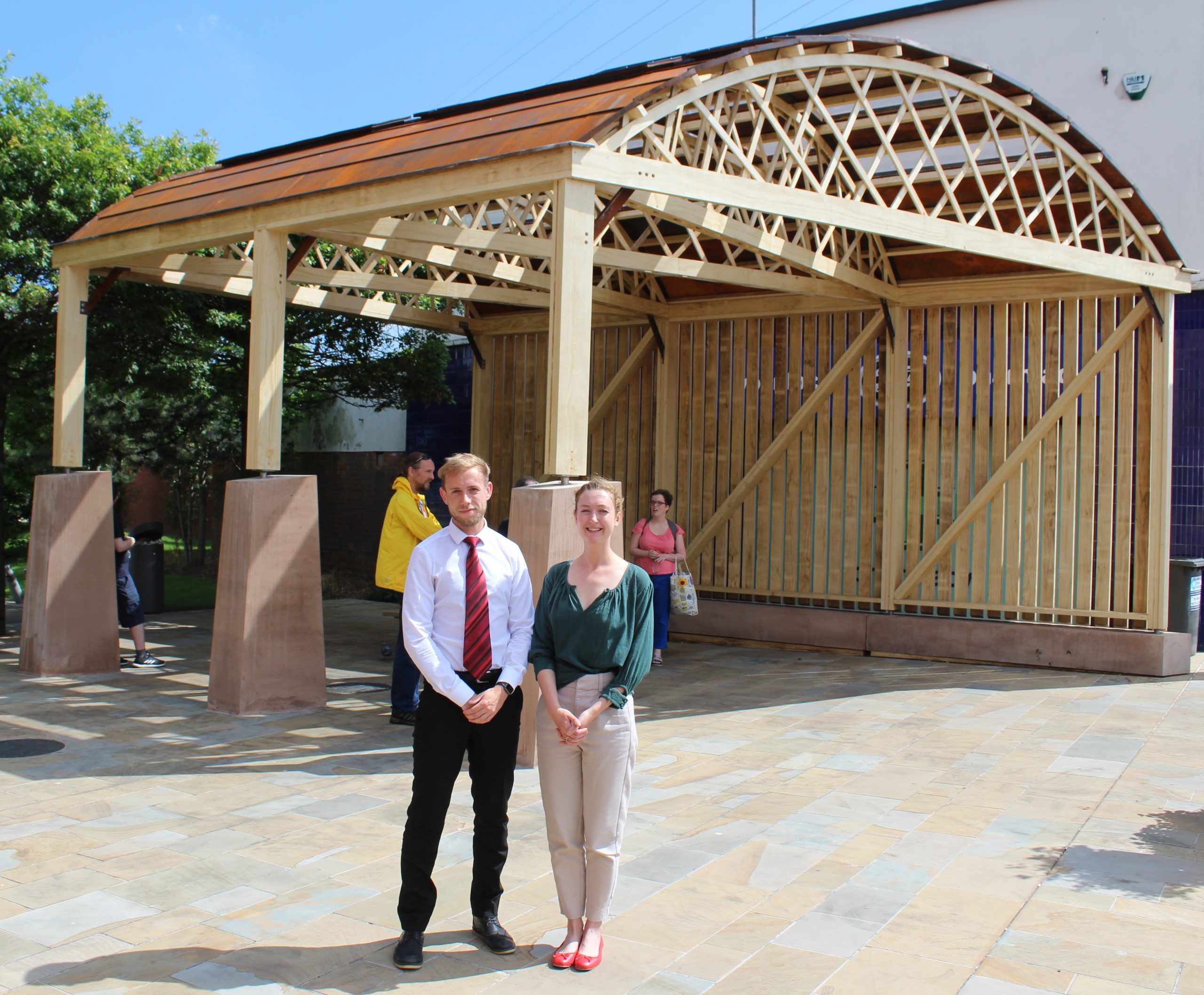 East Belfast's C.S. Lewis Square is proving to be a tremendous success with the many people who live in the area whilst also serving as a popular attraction for the thousands of visitors now coming to the city annually. Located adjacent to Hollywood Arches, one of Belfast's busiest thoroughfares, this unique architectural and design feature provides an oasis of peace and tranquillity, for those who want to take a few minutes out from their busy schedules. It also reflects the scope and diversity of the literary works created by one of Northern Ireland's great authors. 
The latest addition to C.S. Lewis Square is the 'Build East Pavilion', which was conceived as part of an architectural design competition, organised by the Royal Society of Ulster Architects and JP Corry. The client was EastSide Partnership: A social partnership dedicated to the regeneration of East Belfast tasked with managing the EastSide Visitor's Centre and adjacent pavilion site. 
The new landmark feature was designed by Rachel O'Grady of OGU Architects, who co-ordinates Year 2 activities for architectural students at Queen's University Belfast and her colleagues: Chris Upson and Donald McCrory.
"We started thinking through the design elements of the new structure in the autumn of 2017," Rachel explained.
"We were delighted to have won the competition, which meant that the new pavilion was finally completed in June of this year.
"It will serve as both an event space and a shelter for members of the general public."
The design of the new building reflects Belfast's industrial past and reflects, for example, many of the architectural features which made up the landscape of East Belfast for generations. 
Rachel commented:
"The former Rope Works' building stood on a site directly across the road from where the new pavilion is located."
The prize-winning structure comprises three main elements; a series of wooden Belfast trusses, a sheet metal roof plus a number of precast columns and slabs. 
"All of the components were manufactured by local companies. The trusses have been made from Accoya timber." 
"All of the precast features were manufactured by Ballymena-based Moore Concrete. The concrete columns were poured into bespoke timber frames made by their Joinery team, and the concrete mix for the precast elements contains an additive, which gives them their unique colour and texture." 
Moore Concrete's Curtis Murray was a recent visitor to the Built East Pavilion.
"We were delighted to be involved with the project" he said.
"Our Civils team worked closely with Rachel to ensure that the precast concrete columns and slabs were manufactured to the highest standards. All our products go through rigorous quality checks to ensure the integrity of the product. This bespoke job is a great showcase demonstrating the broad applications of precast concrete and the highly skilled team we have here at Moore Concrete." 
"The pavilion totally reflects the heritage of Belfast's famous industrious past. The structure also reflects the ways in which precast concrete can be used to maximise both the physical and design-related aspects of any structure."